Democratic Party
---
I watched two YouTube clips on the Internet today that were a flashback for me to the 2008 Presidential Primaries. They remind me of the far left ideology of so many Obama supporters that I first encountered during those primaries. They also make me recall the incivility that so many of us experienced then, because we favored a different candidate.
The videos were taken in Portland Oregon on April 15th in Pioneer Courthouse Square. The Portland Tea Party had gathered peacefully there to protest Tax Day and hear patriotic speakers and music. They were confronted by an angry counter protest, which of course included the Socialists and Communists that support Obama.
See if you can make out what they are saying:
ShareThis
In 2008 Nancy Pelosi was part of the evil cabal that corrupted the Democratic primary process to force the election of a man with a less than stellar resume.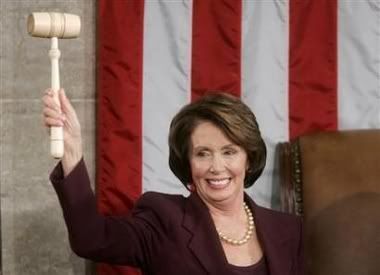 She and Ted Kennedy were a formidable tag-team, and it didn't hurt their cause that DNC leaders and corrupt journalisto-types were in their back pockets.
The cabal's disdain for the democratic process and American voters was an eye-opener; its disenfranchisement of 1,600,000 Michigan and Florida voters, as their annointed one kept repeating "every vote should count," was the kicker.
For a lot of people, it's all water under the bridge, but I'm not one of those.
The fact that it was allowed and indeed enabled is the salient point. It sticks in the craw and the anger about it doesn't go away, because this is America and we were led to believe it's not suppose to happen here. But it did (Damn It). Our Progrssive-Democratic leaders forgot their purpose, ignored their duty, and encouraged it, while our media perpetuated it, as the world watched.
ShareThis
When the POTUS met with the Dalai Lama last Thursday, there was no brouhaha. Reporters were barred, network cameras were not allowed, only one photograph was released of the meeting in the small White House Map Room, and no personal comment was made by President Obama. A White House statement was released through a spokesperson.
Oh, sorry, there is one other photograph that was taken. It was shot as the Dalai Lama was thrown out with the garbage led out a back exit to avoid reporters and pesky cameras, a maneuver which obviously did not work as intended.
ShareThis
___________________________________________
"By the rude bridge that arched the flood,
Their flag to April's breeze unfurled;
Here once the embattled farmers stood,
And fired the shot heard 'round the world."
__________________________________________


Today is the one-year anniversary of President Barack Obama's Inauguration. Yesterday, Blue Massachusetts turned its state election into a referendum on both Democratic Party tactics and the Obama agenda. The voters shook up the Washington establishment and sent the message loud and clear that their Senate seat belongs to the people and they can bestow it on whom they please.

ShareThis
http://www.miamiherald.com/news/nation/AP/story/1201956.html
Associated Press Writer
SAN ANTONIO -- Latino voters celebrated a federal court ruling Tuesday that came down against the Texas Democratic Party and could put the complicated "Texas Two-step" presidential delegate system in jeopardy.

The ruling by a three-judge panel will allow the lawsuit to go forward and put the Texas delegate system closer to facing a potential review by the Justice Department, which Latino advocates sought in the aftermath of last year's intense Democratic primary between Barack Obama and Hillary Rodham Clinton.

In a lawsuit filed last year, the Latino groups argued that the way Texas Democrats awarded presidential delegates unfairly discriminated against Latinos by awarding fewer presidential delegates to heavily Hispanic areas. They did not contest to whom the delegates were awarded, but rather how the allotment was made.

Latino advocates saw Tuesday's ruling as clearing the way for the party's complex process of awarding delegates through a primary and caucus to be done away with entirely.

ShareThis
America's budget deficit hit the Trillion mark (actually $1.09Trillion) for the first time in history. Since there are still three months of the financial year remaining and job losses could top 11%, we probably will go even deeper into the abyss. (Fasten your seatbelt; it is going to be a bumpy ride.)
The bad news surrounding our deficit means we will pay higher interest rates to countries like China that buy our debt. China's leaders, who we sometimes forget are communists since they can't hide there love of capitalism, are making quite a stink about our "weak" money. The Chinese are talking about an alternative currency to our dollar; I find their position intolerable since our politicians and Ivy League economists pushed "the earth is flat" rhetoric that led to the destruction of American industry and factories and made China and other third world countries rich at our expense.
ShareThis
Although Barack Obama introduced "Organizing for America" in January as the President-Elect in a You Tube video, the full scope of OFA was explained over the weekend. Politico reported Sunday that OFA will utilize the Obama presidential campaign's ten million person database "to mobilize support for the president's legislative agenda." Democrats are uniting in a show of solidarity. Democratic strategists explained to Politico's Mark Allen that they aim to accomplish three things (http://www.politico.com/news/stories/0309/20007.html) :
ShareThis
Life happens and sometimes you just have to do a Wednesday news roundup on Thursday.
1. Corrupt Republican Sen. Ted Stevens R-Alaska concedes his US Senate seat to challenger Democrat Mayor Mark Begich. Democrats are within striking distance of 60 seat supermajority in the US Senate if they win the recount in Minnosota and run-off in Georgia.
ShareThis
Now that the shock and disbelief of Election Night have passed (and I must admit, I feel no small relief to finally have the matter decided), I find myself more able to analyze what happened on Tuesday. And unsurprisingly, it isn't the tale the media told us.
ShareThis
Florida started early voting on October 20 for the general election match up between McCain and Obama (the Lord of lies, flip floppery, voter fraud, caucus fraud, race-baiting, and dirty politics). Traditionally, I've voted on election day, November 4, for all the Democrats, even the weakest of Dems. Why? Because I've been a loyal and unquestioning Democrat for 20 years. But this year, I've had enough with the Obamacrats and their shenanigans. No more. I'm ready for change. I'm ready for leadership that this country needs, wants, and deserves.
On Friday, October 24, 2008, I cast my PUMA vote in the great swing state of Florida for McCain/Palin 2008 and Hillary Clinton 2012.
ShareThis
Hey, friend, can you spare some change before 8PM tonight? I know money is tight, but these are worthy causes that could use your $5, $10, or whatever donation.
From blogger, Regency:

A favor folks: can you help spread the word about a rapid fire match offer just made to Democrats For Principle Before Party (spreading the word is more important for this than even donating, because the deadline is 8 pm tonight). Details about the match are at their website.

Here's a bit of the text from that post:

ShareThis
The vigilant Just Say No Deal (JSND) Coalition is keeping a watchful eye on ACORN. In a handy chart, the JSND editors have traced the nuts back to Obama's community organizing days, connected the dots to Obama's staffers and radical associates that form his new Democratic party, and linked to the entrenched interests within the Democratic Party that sheltered Fannie Mae and Freddie Mac, causing the economic crisis. The troubling news about ACORN keeps rolling in with little mainstream media Obamedia scrutiny. Reacting to "recent revelations of ACORN registering dead, underage, and fictitious voters," JSND released a statement on Monday, October 6th, saying:
ShareThis
Having garnered only pro forma support from some of her Senate colleagues (with the notable exception of her frequent partner, Senator Patty Murray) in her efforts to prevent George W. Bush's HHS from denying millions of women access to birth control, Hillary Clinton joins with the president of Planned Parenthood and takes her case to the media:
ShareThis
Oh dear, oh dear. Is our post-Chicago School neo-liberal deregulated greed-is-good utopia showing the cracks in its free-for-all facade?
NEW YORK - When Wall Street woke up Monday morning, two more of its storied firms had vanished.

Lehman Brothers, burdened by $60 billion in soured real-estate holdings, said it is filing for Chapter 11 bankruptcy after attempts to rescue the 158-year-old firm failed.

Bank of America Corp. said it is snapping up Merrill Lynch & Co. Inc. in an $50 billion all-stock transaction.

ShareThis