About that guerilla flotilla
---
Once in a while, something happens that makes people, governments, and media outlets show their true colors. This year, on Memorial Day, a group of 6 ships led by communists and terrorists tried to run Israel's arms blockade of Gaza. Because of all the rockets and mortar shells that have rained down on innocent Israelis since 2005, Israel will not allow any country or entity to ship goods directly to Gaza. All food and other aid is transferred to Gaza after being inspected first by Israel to eliminate an avenue of contraband. Ayers, Dohrn helped organize flotilla group | Washington Examiner. » Media Matters Covers Up Obama Ties to Hamas Ally Jodie Evans - Big Government
According to international law, Israel is well within its rights to have the blockade and to intercept any ship that tries to run it. President Kennedy did that in 1962 to keep missiles and nuclear weapons from the Soviet Union away from Cuba. Turkey violated that law by sending those ships. The Israeli navy managed to peacefully divert 5 of the ships to the port of Ashdod so that the aid could be offloaded, searched, and transferred to Gaza. The sixth ship was a very different story since it was controlled by 50 paid terrorist mercenaries who carried no papers except for envelopes stuffed with money. Armed with paintball guns, IDF commandoes rappelled down ropes from a helicopter onto the deck of the large Turkish vessel and were immediately beaten with steal rods, bats, sledgehammers, chains, wrenches, stabbed with knives, and shot.
Efforts were made to lynch and kidnap some of the IDF soldiers. One soldier was thrown off a deck to another 30 feet below. After an hour of beatings, stabbings, and flash grenades, the soldiers had to resort to using their sidearms to subdue the crowd, resulting in the deaths of 9 terrorist combatants. IDF: Mercenaries to blame for violence. The Vicious Babushka: IDF Uses Flotilla "Activists" Own Videos Against Them; Seething Erupts.
The instant reaction from the worldwide media and the UN was violently against Israel but the rhetoric toned down a bit after the IDF tapes surfaced, showing conclusively that the Russian and Arab media had lied their asses off about what happened. Israeli PM Netanyahu was due to meet with president Obama at the White House but Obama told Netanyahu: Go Home, Don't Explain From Here « Daily News.
President Obama, true to form, threw Israel under his speeding bus Thursday night on Larry King. He said the Israeli raid on the "peace" flotilla was "tragic and unnecessary." Yes, the loss of life was indeed tragic and unnecessary since it never would have happened had the flotilla not tried to run the legal blockade. Israel's actions, though, were completely necessary for the protection of the citizens of Israel. The primary function of any government is to protect its citizens. Given our president's record, he doesn't seem to understand that since he won't enforce federal law and protect our borders. His weak foreign policy emboldens our enemies, making us less safe at home. Anti-Israel sharks sniff O's weakness - NYPOST.com
President Obama may be the biggest threat to this country ever and we are now in one of the most dangerous times in history. When I saw how the media was treating Obama in January, 2008, alarm bells went off in my head because it seemed like Germany in 1932. Some have recently said if feels like 1936 Europe. That's when there was the second dip in the double-dip recession that was known as the Great Depression.
Now, two other ships, including the Rachel Corrie, are due in blockade waters soon. Netanyahu: No ships to reach Gaza - Israel News, Ynetnews
There's no need for ships to try to run the blockade since massive amounts of aid enters Gaza daily from Israel by truck. CIC Scene » Facts Beyond the Spin: Israel Delivers Massive Aid to Gaza. There is no siege. Israel's only interest is in seeing to it that illegal military contraband is kept out of that terrorist-run region. Even as Israel ships huge amounts of aid into Gaza daily, 4 rockets hit south - Israel News, Ynetnews.
While there wasn't any military contraband on the ships this time, the goal of the guerilla flotilla was to end the blockade so that ships could carry it next time. StandWithUs | Flotilla Facts
By the way, N. Korea torpedoed a S. Korean ship in international waters, sinking it and killing 46 people and the world and the media says next to nothing about the tragic incident. Nope, it just doesn't suit their purpose. Israel legally defends herself with a blockade, stops ships trying to run it, and kills a handful of terrorists aboard a ship illegally trying to run the blockade and is universally condemned for that action. Nice double standard, isn't it?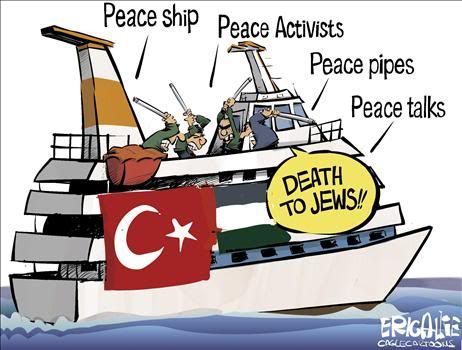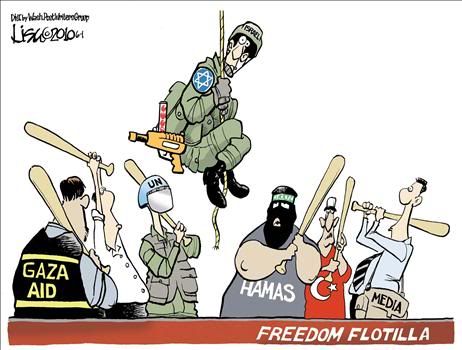 Every time anti-Semitism rears its ugly head, you should know why. It's the ugliness of Marxism, socialism, and communism along with Islamofascism that's at work to bring down Western civilization and the combination of freedom, democracy, and capitalism that goes with it. Remember what Marx said: to defeat capitalism, you have to first defeat the Jews. Israel is the only speck of freedom in a region of the world in a swath that spans Northern Africa across Asia. How dare Israel be a free, successful capitalist country amidst so many Muslim countries that aren't free?
Perhaps the next time a ship tries to run the blockade, the Israelis won't be armed with paintball guns.
ShareThis