Blogs
---
http://www.msnbc.msn.com/id/41641688/ns/us_news-crime_and_courts/
They had some sort of fight in an Apple store at the mall. The older brother shot the younger brother in the head and a couple of days later he died.
Yeah, yeah, I know. This has nothing to do with the kid having a gun in his hands. I bet it's really the iPad that is at fault.
I'm sure the poor, stupid parents are real glad that "guns don't kill".
ShareThis
While our Media was waxing poetic about the "freedom fighters" in Egypt, they really didn't do their homework. They never asked, "Freedom to do what?"
Lara Logan, CBS News' chief foreign correspondent, is recovering in an American hospital from the sexual attack and the beating she sustained while reporting the events in Cairo.
CBS News' Logan recovering after 'brutal' attack

AP February 16, 2011, 9:49 am

>Snip<

ShareThis
The Mayor's campaign is about fixing background checks, not about taking away your precious.
http://www.fixgunchecks.org/?no_splash=1
ShareThis
Perfect example of so much that is wrong.
My wife is getting wonderful care at a great hospital. Everyone from doctors to the LPNs and techs have been professional, kind and highly skilled.
So, the surgeon, who is an incredible trauma orthopod, he said he wanted to keep Dian through at least Thursday. She had a total hip replacement at 6 PM Monday. Due to her size and perhaps that he doesn't trust her to be good, he wants her to have 2 full days of therapy. She also feels she won't be ready to come home until Thursday.
But the all powerful insurance company says 2 days for a hip, period. The coordinator who's job it is to pass all the good news said, if she is not ready to go home on Wednesday then she'd have to go to a rehab facility. Most people would just follow the insurance company medicine no matter what their physician feels is best for them.
We took care of things another way and Dian will be there until Thursday but we know who and what to ask.
Great system, ain't it?
But wait.. The budget axes among my readers may say, she should go home tomorrow and Hamp can skip work another day to take care of his wife. She should go home and save all that wasted hospitalization cost.
Bull
ShareThis
Hope everyone had a nice Valentine's Day. This is the day my wife and I celebrate the anniversary of the day we met and this time it's our 40th. We celebrated with balloons, red and white carnations, candy, filet mignon and champagne. Last night, we drove out into the Maryland countryside with my mom in the Lexus limo to see the sunset at a mountain park. The sunset was magnificent over the snow-covered rolling foothills. Later, the moon shone through the moonroof as we went to dinner.
We were surprised on Saturday when we got a package from the daughter of my best friend from college. It included a pair of colorful dishes that look like cupcakes and a pair of towels covered with valentine's. We used the cupcake dishes for little heart cakes.
ShareThis
One Country's Response to Recession:
A Cauldron Bubble
From the Financial Times:
"Ordinary citizens who lost jobs and savings in the financial collapse are seething at the impunity of those who blithely assured them the future was rosy. Now, at last, one country may soon say "enough is enough". Romania is considering a law to hold fortune-tellers accountable for their predictions."
Read the details here:
ShareThis
Thousands of classified American cables obtained by the WikiLeaks website detail the international struggle to stop the spread of weapon-grade nuclear, chemical and biological material around the globe.
On February 1, The Daily Telegraph began to detail what it had learned through its analysis of the leaked documents, in particular the fact that al Qaeda is on the verge of producing radioactive weapons after sourcing nuclear material and recruiting rogue scientists to build "dirty" bombs.
According to leaked diplomatic documents, we have been warned that Jihadi groups are close to producing "workable and efficient" biological and chemical weapons that could kill thousands if unleashed in attacks on the West.
Like things aren't really bad enough...
The following video of an ABC news affiliate in San Diego highlights a current story on the San Diego Port Authority:
ShareThis
My lovely wife slipped on the ice left over from all the snow that Creeper sent our way this year. Snapped that hip bone so it no longer connects to the leg bone. She did it Friday on the way out and then went and did her errands. She tried to convince me for two nights that not being able to walk on her leg didn't mean it was broken. We were at the ER at 8am today and knew the details by 9.
Tomorrow she ends her life of easy airport screenings and gets a shiny new ceramic hip. She's looking forward to her first pat down.
I needless to say, will be scarce around this place for a little bit as I play woman and do my 40 hours at the office and 30 more at home cooking and cleaning and stuff.
ShareThis
A Rasmussen Poll released on February 7th showed that 58% of Americans favor repeal of Obamacare; 56% say the cost of healthcare will go up because of it; and 52% say the quality of healthcare will get worse because of it. Looks like Americans don't particularly like the new healthcare legislation.
On the other hand, Progressives are on record saying that Obamacare will create new jobs. Just before the final vote on the Obamacare bill, Nancy Pelosi even said:
"It's about jobs. In its life, [Obamacare bill] will create 4 million jobs — 400,000 jobs almost immediately."
Oops, Nancy told a whopper!
It turns out that the Congressional Budget Office never supported her view. During a House Budget Committee meeting on February 10th, Congressional Business Office Director Douglas Elmendorf said that the bill will not create jobs.
Worse yet, in his testimony in front of the committee, Elmendorf made a disturbing announcement. He said he expects Obamacare to actually eliminate 800,000 jobs, that number is equal to every job in Delaware and South Dakota.
He explained it this way:
ShareThis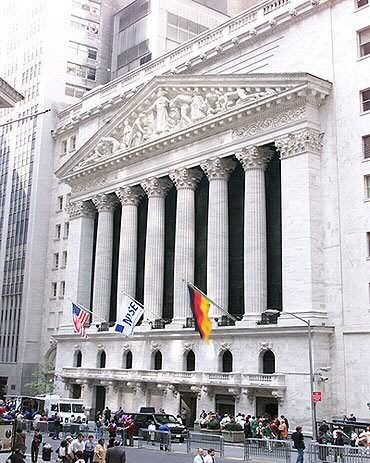 FREE ENTERPPRISE
Ain't America and our independence just wonderful?
It seems that it's always about cost. http://www.bloomberg.com/news/2011-02-10/nyse-symbol-of-u-s-capitalism-lost-out-as-investors-sought-lower-costs.html
The New York Stock Exchange, the symbol of American capitalism for more than a century, may merge with a German rival after losing ground to smaller competitors.

NYSE Euronext, the owner of the NYSE, is negotiating to be acquired by Deutsche Boerse AG with equity valued at $10 billion after its market share dwindled to 23 percent from 80 percent in the past six years. The new company will be the biggest exchange owner, handling equities worth $15 trillion and 40 percent of the U.S. options market.

ShareThis
The FLOTUS has been taking hits for the fat food menu served at the White House Super Bowl Party, because she lectures us on our eating habits and the size of our fat behinds. They have a point, up to a point. (People don't like to be repeatedly told they're fat, unhealthy, and headed for a heart attack— even if it's true.)
Maybe our FLOTUS should add something new to her plate, and I'm not talking food. Maybe it's time for her to seize a headline issue that could use the talents of a Harvard graduate with a law degree. As a Chicago native, she already knows something about the issue of failing schools and the students who fall through the cracks because of them. Michelle Obama strikes me as a woman, who is both tough enough and smart enough to change things for parents like Ohio mother of two, Kelley Williams-Bolar.
ShareThis
The Muslim Brotherhood? Any fool can google and find out the Muslim Brotherhood is a threat to our Western way of life, so why are so many in the media not telling the truth? Why would people in a free press in a free society support them?
If you find that disturbing, the next one is worse.
ShareThis
As I was responding to Sharyn's comment, Economic Recovery, my post got too big for a simple comment so I turned it into this blog entry. She quoted Robert Reich in his Feb 4 article: Robert Reich: The Jobs Report, and America's Two Economies.
Just about everything he said in his article is wrong.
At a time when corporate profits are through the roof, the Dow is flirting with 12,000, Wall Street paychecks are fat again, and big corporations are sitting on more than $1 trillion in cash, you'd expect jobs be coming back. But you'd be wrong.

ShareThis

The House Homeland Security Committee will open hearings into the domestic terror threat.

kudos to Rep. King (R, NY):
"Rep. Peter King, the new chairman of the Homeland Security Committee, has ignited a storm of controversy for planning hearings next month on the growing threat of radical Islam."
"Rep. Pete King yesterday vowed not to let "political correctness" stop him from holding House hearings on the threat of Islamic radicalization inside the United States. King (R-LI), chairman of the House Homeland Security Committee, has been criticized since he announced hearings that will focus on al Qaeda's efforts to radicalize Muslim-Americans."
ShareThis
I just took the Jeopardy online test. When they mentioned it on the show last month I thought it would be a hoot to try.
OY
It was fun and I'm glad I did it but dang if those questions don't come at you fast. There are still two more for those in different time zones. http://www.jeopardy.com/onlinetests/adult/tutorials/
ShareThis
I heard on the news that bank robberies are up 10%; and then there's this: a 76-year-old man experiencing "rough times" caught stealing groceries. Rough times, indeed. According to USDA data, the number of seniors now frequenting food pantries is up 81%. And it's not just seniors getting desperate. Our youth unemployment rate is around 20%, getting uncomfortably close to Egypt's mutinous youth unemployment of around 25%. Will our capitalistic system save itself from itself, or, as our middle class keeps shrinking, is our own "Egypt" around the corner?
Here's the report of the 76-year old:
ShareThis
On January 22, I posted a story called Fascist Hate Freedom: The Canadian Iranium Story. The controversy surrounding Iranium the movie is now being covered by more American blogs and some news outlets.
The Iranium controversy is a story that revolves around political correctness and the desire to stifle free speech in Canada. People see what foes of free speech tried to do by stopping the showing of a film in Canada as an extension of the political correctness nonsense that has conquered the minds and voices of too many elected leaders in Western countries.
Fortunately In Canada, Prime Minister Stephen Harper and Canadian Heritage Minister James Moore supported democratic principles and Western freedoms, so the movie entitled Iranium was shown yesterday in Ottawa, Canada.
Our media plays us like a fine tooth comb, but the following video clip should make you realize things are not always as they seem in the Middle East.
ShareThis
The photo above is of an umbrella cockatoo named Dusty from Antigo, Wisconsin. Dusty is a Packers fan. Green Bay fans are really loyal and never shy about voicing their commitment to the Packers. Dusty is no different and even sings "I love the Green Bay Packers."
Since the Packers are America's new Super Bowl Champs after their 31-25 victory over the Steelers, it seems fitting to recognize them and their fans. What better way than to watch Dusty in action?
ShareThis
Click image larger view.
ShareThis
Islam & Democracy
The American media and its ubiquitous analysts are increasingly splitting into two camps over the Egyptian revolt. The loudest camp sees the revolution as a wonderful expression of "people-power" that will naturally bloom ("poof") into a democracy.
Americans should take a collective step back from that view. Knowing what happened with the West's attempts to create democracies in both Iraq and Afghanistan should make us view events in Egypt with a more jaundiced eye.
From their self-immolations, Afghan woman let us know they'd rather be dead than alive in their homeland with the Taliban in control, as it is now under "democratic" rule. Christians have left Iraq in droves to escape the persecution that "democracy" has brought them, despite the fact that they lived relatively peaceful lives under Saddam Hussein.
Democracies are more than guaranteeing democratic elections. They can only thrive with the bedrock of Western principles that make them possible. They cannot survive without that bedrock. Islam has shown in both Afghanistan and Iraq that it can't tolerate a democracy, because it does not allow the freedom of other religions and abhors the Western principles that form the basis for democracy.
It is a catch 22.
ShareThis
Yep. The false god Ronald Reagan, actually raised taxes 11 times! NPR had a great pirce the other day which you can listen to at this link http://www.nhpr.org/ronald-reagans-legacy-clouds-tax-record .
Reagan's entire legacy of the super tax and programs cutter came from his first year. He did cut like crazy including things like mental health which threw so many homeless on the streets, but. They cut so deep that he eventually had to raise taxes 11 times to keep the country functioning.
Over at Think Progress I found a wonderful breakdown of other things the "conservatives" would not want their supporters to know about their idol.
"Ten things conservatives don't want you to know about Ronald Reagan"
1. Reagan was a serial tax raiser.
2. Reagan nearly tripled the federal budget deficit.
3. Unemployment soared after Reagan's 1981 tax cuts.
4. Reagan grew the size of the federal government tremendously.
5. Reagan did little to fight a woman's right to chose.
6. Reagan was a "bellicose peacenik."
7. Reagan gave amnesty to 3 million undocumented immigrants.
8. Reagan illegally funneled weapons to Iran.
9. Reagan vetoed a comprehensive anti-Apartheid act.
10. Reagan helped create the Taliban and Osama Bin Laden.
Really a great article that goes in depth about each point. http://thinkprogress.org/2011/02/05/reagan-centennial/
Why am I posting this or concerned with his legacy? Because it shows once again how conservatives lie and change history in order to suit their purpose. Their purpose is to keep their corporations and family trust funds raking in more dough in order to satisfy the shopping needs of unborn generations of conservatives to come.
So-called conservatives do and say what ever is necessary to convince the average American that they have your interests at heart. They do and say anything to get votes.
ShareThis
This raped, dead girl is your sister - Read this story and imagine you're reading about your sister – because you are: A 14-year-old Bangladeshi girl allegedly raped by a much older cousin has died after being publicly flogged for adultery, media reports said. Hena Begum was sentenced to receive 100 lashes by a village council made up of elders and Muslim clerics [...] [Peter Daou]
ed. Peter Daou has strong feelings about Women's rights. Over at the complete post he ends with this line..
I've said it before and I'll repeat it: the wholesale oppression of women is the single greatest travesty of our time. Each of the victims is your sister and my sister, not a statistic, not a stranger, but a fellow human with hopes, dreams and feelings. It shatters me that anyone has to experience what Hena went through. We MUST find a way to stop it.
ShareThis
View out an upstairs window over our porch. The first mound of snow is the 3 foot pile on the roof. The iciclesare among the smallest on the house but it's hard to see in this pic, the ones on the right are about 4 inches deep and in three rows. At the other end of the house we have 10 footers. http://i255.photobucket.com/albums/hh146/NewHampster/Winter%202011/IMG_20110202_154348.jpg
ShareThis
Found on Reddit http://www.reddit.com/r/pics/ The caption is "Moms Rock".
ShareThis
---